Founded by The Horizon Foundation, Teen Time is sponsored by Owen Brown Community Association, Friends of Howard County Library, and anonymous donors.
Howard County Library System's Teen Time was added to A+ Partners in Education in 2005.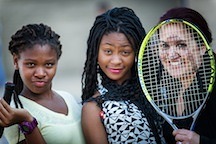 An initiative for at-risk teens, Teen Time enhances student academics in a fun, welcoming, after-school environment.
Teen Time runs Monday – Thursday from 2:30-5:30 pm during the school year. The daily schedule includes a transition period, which allows students to unwind from school and talk about their day. HCLS instructors next assist students with their homework, which is followed by enrichment activities. While centering on academic enrichment, Teen Time focuses on a variety of additional components, which involves guest speakers, art contests, and poetry slams. In addition, Teen Time students discuss Choose Civility and the importance of developing healthy behaviors, conflict resolution skills, and being caring and kind. Teen Time aims to provide the mentoring students need to make the right decisions to succeed in life.
To leverage funding and expertise, HCLS partners with organizations such as the Columbia Association, Cradlerock School, Howard County Police Department, and Howard County Department of Recreation and Parks when organizing activities for Teen Time students.
HCLS instructors work closely with Teen Time parents, who are made aware of their child's progress through open houses, monthly meetings, and trainings.
A+ Partners in Education is licensed by Howard County Library System (MD) under a Creative Commons Attribution-NonCommercial-ShareAlike 3.0 Unported License.
Please let us know when you launch your A+ initiative so we may link to your web site Contact Us