Adopt a Shelf Volunteer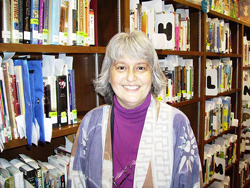 Position Title: Adopt a Shelf
Branch: All Branches
Department: Customer Service/Research
Major Responsibilities:
Meet with Library staff to learn about your chosen area.
Put materials in alpha/Dewey Decimal order.
Pull materials to the front edge of the shelf.
Shift materials if necessary (only within the bay).
Dust or clean shelves, collect litter and bookmarks for disposal.
Check materials to make sure they belong to the branch and Howard County Library.
Report to the staff member in charge when you arrive and when you leave.
Record your volunteer hours.
Training: Attend a one hour training/information meeting
Qualifications:
Must be able to alphabetize, and learn how to organize numerically.
Must be detail-oriented and organized.
Ability to work independently.
Meet time commitment.
Ability to reach top and bottom shelves, bend, and stretch.

Length of commitment: Minimum of six months
Time Involvement: Flexible. Volunteers should come once a week to work in their chosen area (1-2 hrs per visit). Once trained, volunteer can come anytime the branch is open.