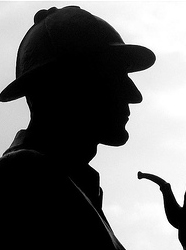 Howard County Library, in partnership with Watson's Tin Box of Ellicott City and Howard County Public Schools, announces the seventh annual Sherlock Holmes Essay Contest for all Howard County public, private and homeschooled 7th grade students.
Students are asked to read the Sherlock Holmes short story, "The Adventure of the Speckled Band," and write a five-paragraph analytical essay according to the rules and guidelines of the contest. Students may download a booklet that includes the story, pre-reading activities, a glossary of British terms, specific essay questions, the rubric which will be used in judging the essays and a contest entry form.
Teachers who choose to have their classes participate will forward to Watson's Tin Box the top two essays from each of his/her classes. Home schooled students may send their essay to the Watson's Tin Box address listed in the booklet.
Essays must be received by Watson's Tin Box by June 1, 2011. Prizes will be awarded for the best three essays. Winners will be announced at an awards presentation in June 2011 at Howard County Library.
Special thanks to contest sponsor and creator, Watson's Tin Box of Ellicott City.