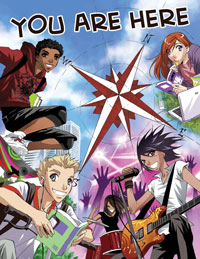 Our goal is to keep your students reading this summer. Their goal is to earn book bucks!
Students can earn "book bucks" for time they spend reading, for attending library classes, for turning in a book review, for completing a weekly survey, and for mailing or bringing us a postcard or photograph of their favorite vacation spot. Students can earn credit for reading up to six hours per day.
Students will collect prizes for reaching goals of 50 and 100 book bucks. When they earn at least 100 book bucks, they will be eligible to participate in the You Are Here Readers Raffle.
Check out a list of books for Middle School and High School students developed by Howard County Library's teen specialists in conjunction with the Howard County Public School System's media specialists.
To get started, students should register at the information desk at any Howard County Library branch. We'll give them all of the materials they will need to get started: a reading log, a review card, a user name and password for the online components, plus their first five book bucks and a starter prize!
The last day for students to earn book bucks and enter the raffle is August 13. Raffle winners will be contacted beginning August 17.
Look out for Howard County Library System's Instructors promoting summer reading with your students in May and June.
Sponsored by Friends of Howard County Library.