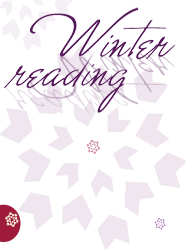 From December 1st 2011 to February 29th 2012 we're offering Middle and High School students the chance to chill out with a book as part of Teen Winter Reading. Howard County Library System's Teen Instructors have selected 46 titles for the 2011-12 Winter Reading List and prepared a three-question quiz about each selected title. The list includes materials for ages 11-17 from collections throughout the library, so there's something available for everyone.
Between December 1st, 2011 and February 29, 2012, teen readers are invited to select and read (or listen to) a book from the list, and answer the three-question quiz about that book. Teen readers who read three books and answer three quizzes will be entered into a prize draw to win a book bundle. Prizes will be drawn in March, after Teen Winter Reading concludes. Your students  can read as many books off the list as they want to, and enter the draw each time they read three new books and complete three new quizzes.
There are printed copies of the book list in your closest branch. You can also view the list and questions at hclibrary.org/winterreading/. Please share this information with your students and encourage them to take part!