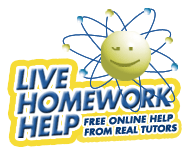 It's time for high school semester exams!
If your students need additional assistance "cramming" for exams, recommend Live Homework Help. Live tutors are available…for free…seven days a week from 2:00 pm to midnight. Tutors can provide individual instruction in math, science, English, and social studies. All students need is a Library card and access to the internet.
Here's what students are saying about this service:
"I am so thankful that this service is offered. It is there to give me individualized
help when no one else can. I will definitely be back again."
"They answered my questions really fast and asked me questions until I understood everything exactly…
I really liked that!"
"This is really great! I have been working on things with my teachers, and this just helps even more!
All of my friends use it too! Thanks!"
Good luck on exams!