Customer Service Aide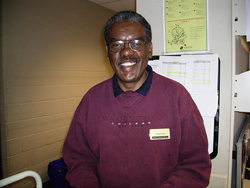 Position Title: Customer Service Aide
Branch: Central, East Columbia, Elkridge, Glenwood, Miller, Savage
Department: Customer Service
Major Responsibilities: Shelving books and shelf-reading sections to keep them in order, and other tasks as assigned. Possible tasks include: shifting collections and sorting deliveries, and boxing donations.
Training: Training is on the job
Qualifications:
Good attention to detail, ability to work independently, and ability to focus on detailed task.
Ability to learn how to put materials in alpha/Dewey Decimal order.
Physically able to push and pull heavy book carts.
Ability to reach top and bottom shelves, bend, and stretch.
Willingness to perform a variety of tasks.
Respect for diverse lifestyles, cultures, religions, and values.
Cooperate with Library staff.

Length of commitment: Six months

Time Involvement: Two hours once or twice a week