Howard County Library Public Access Computers
Each of the Library's 300 customer computers feature free software.
The free software packages are offered with the expectation that customers already know how to use them or can easily learn them. The software was selected to provide full computing functionality, including word processing, Internet-based research, photograph and image manipulation, and audio playback.
As the Library adds and modifies the free software, it will build a curriculum and extensive catalog of software training classes. Customers with expertise and interest in any of these applications are welcome to help the Library develop hands-on training classes. If you are interested, please let any staff member know.

Why are the Library's computers different than my home PC (personal computer)?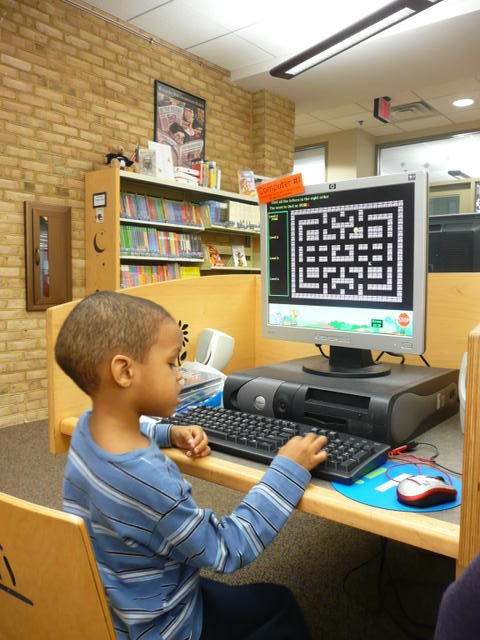 HCLS uses free software because it is free, high quality, and meets our educational goals. There are no licensing fees for this software. Howard County Library re-invests the savings in new hardware.
The software on HCLS computers are likely different than what you use at home. Let's start with the operating system, which is the software program that enables the comptuers hardware to communicate and operate with the computer software. Your computer probably runs on a Microsoft operating system (Windows XP or 7) or MAC OS X.
For its operating system, HCLS computers use GNU-Linux, based on Unix, for an operating system because it offers the highest degree of security from hackers, malware, and viruses.
You can read more about GNU-Linux at the Linux Foundation's web site and on the Free Software Foundation's web site. Howard County Library also uses GNU-Linux because it highly customizable and adaptable.
Using GNU-Linux, the Library is able to set up its computers exactly as it wants.
The version of GNU-Linux Howard County Library uses is Ubuntu. You can download this free distribution and use it at home; the best place to start is the Ubuntu user community (www.ubuntu.com).
For our customers using the web, HCLS has chosen Firefox and Chrome as its two primary browsers due to security issues with Internet Explorer.
The United States Computer Emergency Readiness Team has reported on the security issues with Internet Explorer as far back as 2004.
You do reduce your exposure to several vulnerabilities by using something else for most web browsing (Firefox is next most popular web browser).
If you are using site which limits your web experience to only Internet Explorer, please read more about the "Viewable with Any Browser" campaign.
Another difference between HCLS computers and your own computer is the software available. On HCLS computers, you will be able to create, edit, and save documents, search the Internet, manipulate photographs and images, and listen to some music (MP3-format.) All of this functionality is offered using free software.
The software on these computers will be updated every six months.
What software is featured on the Library's computers?
Accessories: Use a calculator, take screenshots, or use basic programming tools
Education: Technology and education go hand-in-hand
Educational games cover such subjects as math, geography, and science.

Games: Learning is FUN!
Play solitaire, chess, mahjongg, sudoku, and 19 other games.
Child-friendly games: ChildsPlay, TuxMath, and TuxType

Graphics: Transfer photos, create charts, enhance digital images
Document Viewer: view multipage documents, including those created in PDF format
F-Spot: capture photos from a digital camera and save them to a file, Flickr, or Picasa
GIMP Image Editor: manipulate graphical images
YouTube video tutorial on GIMP
another online tutorial on GIMP
LibreOffice Draw: create and edit drawings, flow charts, and logos

Internet: Read email, browse the Internet
Howard County Library System Policy on Internet Use
Firefox: open source web browser
Chrome: freeware web browser developed by Google
Opera: free, but not open source, web browser
Meebo Instant Messenger: web-based, multi-protocol instant messenger
Additional programs: Google Earth

Office: Create a document, modify a spreadsheet, design a presentation, or balance your books
LibreOffice: word processing suite including formula creation and database tools
Scribus: desktop publishing software that can create "press-ready" output

Sound and Video: Listen to your iPod or MP3 player, play a CD, watch an Internet-based video
Players: listen to music, watch videos
Music Players: Amarok, Banshee Music Player, RealPlayer, Rhythmbox Music Player
Movie Players; Movie Player, RealPlayer, VLC Movie Player, Xine


Editors: edit music, record sound clips
Audacity: record and edit sounds

Management: move music to a iPod or MP3 player (including purchased MP3s from Amazon)
Amarok: MP3 Player management
Audio CD Extractor (also called Sound Juicer)
Banshee: MP3 Player management
GTKPod: iPod management
Orca Screen Reader and Magnifier: Make the screen display larger or have it read to you
File Browser: View the file structure of portable storage devices (floppy disc or USB device)
Preferences: Customize the computer the way you like
Help: Learn more
Logout: Exit the computer, discard all changes, and return preference settings to standard set up