Welcome to the very best in education!
At Howard County Library System (HCLS), we aim to delight you with extraordinary customer service – whether in person, by telephone, or online. Our expert team of educators and support staff is here for you. A vital component of Howard County's renowned education system, HCLS delivers high-quality public education for all.
Ranked among the nation's great public library systems, we take pride in our Library of the Year Award, bestowed by Gale/Library Journal in 2013. HCLS was selected from among the 21,000 public and academic libraries in North America for developing and living a powerful new vision, "Libraries = Education."  Those new to our culturally diverse community quickly learn why 90 percent of Howard County, Maryland residents have—and use—their library cards.
What sets HCLS apart?
We earned the position as best library system in North America for who we are, what we do, and how we do it—most notably, our:
Extraordinary team of innovative educators and support staff.
Distinctive sense of purpose: high-quality public education for all.
Award-winning curriculum.
Hallmark of providing exceptional customer service.
Strategic vocabulary that accurately conveys our true value.
Strong support from the HCLS Board of Trustees, Howard County Government, State Delegation, Friends of Howard County Library, philanthropic partners, devoted volunteers, and our dynamic community.
Background
An allied agency similar to the school system and community college, HCLS delivers high-quality public education for everyone. HCLS' curriculum comprises three pillars: Self-Directed Education, Research Assistance & Instruction, and Instructive & Enlightening Experiences.
Mission: We deliver high-quality public education for all ages.
Vision: A vital component of Howard County's renowned education system, we deliver excellence in education for everyone, advancing the economy and quality of life.
Branches: HCLS' seven branches are the Central Branch, East Columbia Branch, Elkridge Branch, Glenwood Branch, Miller Branch, Savage Branch, and Administrative Branch.
Board of Trustees: HCLS is governed by a seven-member, policy-making Board of Trustees. The HCLS Board recommends Trustee nominees to the County Executive, who appoints the Trustees with County Council approval.
Who We Are
More than 300 talented educators and support staff members comprise Team HCLS. This team of experts supplies a first-rate collection of materials in a wide variety of formats; provides research assistance; teaches classes, seminars and workshops for our large and diverse student body; and orchestrates outstanding signature events throughout the year.
HCLS has led the development of a powerful vision for libraries that:
positions library staff as educators,
repositions libraries as educational institutions, and
establishes a distinctive sense of purpose.
What is this distinctive sense of purpose? We are education. Like schools, colleges, and universities, we are what the world values most.
The power of this approach stems from placing all that library professionals do under three, easy-to-remember "education pillars," and using bold, value-enhanced terminology that commands value—self-explanatory language that people outside of the field can immediately understand.
What We Do
We deliver equal opportunity in education through a curriculum that comprises Three Pillars: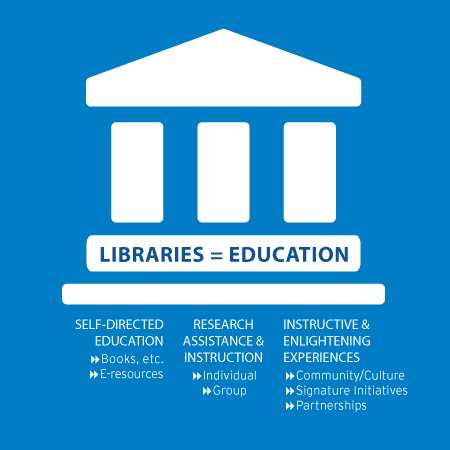 I. Self-Directed Education
Find books and materials in all formats from a collection of one million items housed at our six branches, and a vast array of e-resources – all made conveniently available to you by our experts.

II. Research Assistance & Instruction
Benefit from personalized research assistance with an Instructor & Research Specialist; sign up for our exceptional line-up of classes, seminars, and workshops for infants, toddlers, children, teens, and adults taught by HCLS instructors; enroll in HiTech, our STEM education initiative for teens that won the Urban Library Council's 2013 Top Innovator award; and learn about our adult basic education initiative, Project Literacy. We also process passport applications at our East Columbia and Glenwood Branches.
III. Instructive & Enlightening Experiences
Discover our community partnerships, including A+ Partners in Education and Choose Civility, as well as our signature events, such as the HCLS Spelling Bee, BumbleBee, Battle of the Books, Rube Goldberg Challenge, notable author events, and Evening in the Stacks.