Welcome to the very best in education!
At Howard County Library System, we aim to delight you with extraordinary customer service – whether in person, by telephone, or online. Our expert team of educators and support staff is here for you.
A vital component of Howard County's renowned education system, Howard County Library System (HCLS) delivers high-quality public education for all.
Ranked among the nation's great public library systems, we take pride in our Library of the Year Award, bestowed by Gale/Library Journal. HCLS was selected from among the 21,000 public and academic libraries in North America for developing and living a powerful new vision, "Libraries = Education."
Ushering in a new era for libraries everywhere, the philosophy positions libraries as educational institutions and library staff as educators. As part of the award, Library Journal hailed the Libraries = Education equation "a 21st century model worthy of study and consideration by every other library in America, if not the world" (John N. Berry, Library Journal, June 15, 2013, p.33).
We invite you to peruse our web site for all three pillars of our unparalleled curriculum:
I. Self-Directed Education
Find books and materials in all formats from a collection of one million items housed at our six branches, and a vast array of e-resources – all made conveniently available to you by our experts.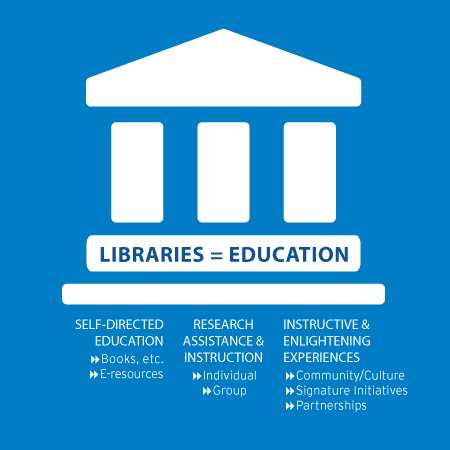 II. Research Assistance & Instruction
Benefit from personalized research assistance with an Instructor & Research Specialist; sign up for our exceptional line-up of classes, seminars, and workshops for infants, toddlers, children, teens, and adults taught by HCLS instructors; enroll in HiTech, our STEM education initiative for teens that won the Urban Library Council's 2013 Top Innovator award in the Education category; and learn about our adult basic education initiative, HCLS Project Literacy, where instructors and volunteer tutors teach English, basic math, and life skills to adult students from 33 countries. As part of Cultural Connections, we also process passport applications at our East Columbia and Glenwood Branches.
III. Instructive & Enlightening Experiences
Discover our community partnerships, including A+ Partners in Education and Choose Civility, as well as our signature events, such as the HCLS Spelling Bee, BumbleBee, Battle of the Books, Rube Goldberg Challenge, Summer Reading Kickoff, notable author events, and Evening in the Stacks.
In addition, our web site connects you with our staff and Board of Trustees, as well as volunteer opportunities, donation options, and the Friends and Foundation of HCLS. We love hearing from you, so please feel free to provide us with feedback. We want to know what you like and what you would like.
It is our hope that you will drop by frequently, both in person and online. One way or another, we look forward to your visit!