HCLS Now 4 Students Campaign Wins Hermes Gold Award
Howard County Library System's new eContent campaign for students won a Gold Award in the 2018 Hermes Creative Awards. HCLS Now 4 Students targets K-12 students and features the friendly "Hi" logo in a series of testimonial style ads.
The winter 2018 source cover, 100K Books Challenge, received Honorable Mention.
HiJinx Podcast Wins MarCom Gold Award
HiJinx, Howard County Library System's monthly podcast, is the winner of a 2017 MarCom Gold Award. The podcast educates listeners about topics relative to upcoming HCLS events and curriculum in a conversational style that piques interest and sparks curiosity. Through their conversations with guests, podcast hosts explore various facets of an overarching theme each month. HiJinx is written, co-hosted and produced by HCLS Publicity Specialist Victoria Goodman and Multimedia Producer and Instructor Dennis Wood. Listen to the podcast at hclibrary.org/HiJinx
MarCom is one of the oldest, largest, and most prestigious creative competitions in the world. It is sponsored and judged by the Association of Marketing and Communication Professionals (AMCP), a 23-year-old international organization consisting of several thousand creative professionals, and is the industry's pre-eminent third-party evaluator of creative work. The 2017 MarCom Awards competition received more than 6,000 entries from around the world, and recognizes the outstanding achievement by creative professionals involved in the concept, direction, design, and production of marketing and communication materials and programs. Entries are judged by industry professionals and winners are selected when the talent exceeds a high standard of excellence, making their work a benchmark for the industry.
HCLS Now! Campaign Earns Top Honor in 2017 Hermes Creative Awards
Howard County Library System received international recognition by the Association of Marketing and Communication Professionals in the 2017 Hermes Creative Awards for three of its recent communication efforts. The HCLS Now! public relations campaign earned the Platinum Award, the organization's top honor. Designed to introduce customers to the growing catalog of new eContent materials available online, the year-long campaign featured HCLS employees and the friendly "Hi" logo in a series of twelve testimonial style ads.
The source magazine cover photo of organic farmer and New York Times bestselling author Forrest Pritchard earned a Gold award in the portrait/people photography category. The photo was shot on location at Pritchard's farm in Berryville, Virginia. The new HCLS HiJinx podcast also received an honorable mention for Episode 2 "Thanks for the Memories." All aspects of the award-winning projects were conceived and executed in-house by the HCLS Public Relations team.
HCLS' Batman Reads! Photo Receives International Recognition by Hermes Creative Awards
Howard County Library System received international recognition by Hermes Creative Awards for the cover photo on its 2015 summer issue of source. The photo, Batman Reads!, was awarded the 2016 Platinum Award in the photography portrait/people category. Only 15 percent of entries win the Platinum Award, the organization's top honor. The reverse cover of the classes and events guide, Super Kids, received Honorable Mention.
Howard County Library System Designated Five-Star Library System
For the fifth consecutive year, HCLS was designated a national "Star" library system by Library Journal for delivering excellence in public education for all. HCLS again earned the highest five-star ranking attained by fewer than one percent of public libraries in the U.S., and the only library system in Maryland to do so.
HCLS President and CEO Gross Named Innovator of the Year by The Daily Record
Howard County Library System President and CEO Valerie J. Gross was named a 2015 Innovator of the Year by The Daily Record for developing a 21st-century vision for libraries that provides equal opportunity and education for everyone. The award recognized Gross' three pillar approach to establishing a curriculum that combines self-directed education, research assistance and instruction, and instructive and enlightening experiences. The innovative approach repositioned Howard County Library System as a key component of Howard County, Maryland's education enterprise.  (Read
Media Release
)
HCLS Named 2013 Library of the Year by Gale and Library Journal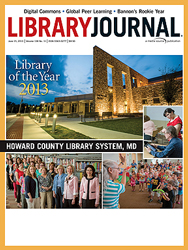 Gale, part of Cengage Learning and a leading publisher of research resources for libraries, schools and businesses, and Library Journal magazine announced on June 5, 2013 that Howard County Library System in Columbia, Maryland is the 2013 Library of the Year.
Each year this prestigious recognition goes to one of the 21,000 public and academic libraries in the United States, Canada, and Mexico. The recipient most profoundly demonstrates creativity, leadership and innovation in developing signature events and initiatives, particularly those that can be emulated by others. Howard County Library System was featured as the cover story for the June 15 issue of Library Journal.
"Through unique partnerships with various community groups, innovative programming and a strong focus on education for all, HCLS has truly become a staple in local residents' lives and for that we're excited to present them with the 2013 Library of the Year Award," said Ian Singer, publisher, Library Journal.
"At Cengage Learning our mission is to provide leading educational content and services to engage learners and improve their outcomes. Because of this, we are extremely supportive of Howard County Public Library's work to reposition itself as an educational institution within their community," said Nader Qaimari, senior vice president, marketing, Cengage Learning.
HCLS Honored as Innovator by Urban Libraries Council
The Urban Libraries Council (ULC), a membership association of leading public libraries in the U.S. and Canada, named Howard County Library System a 2013 Top Innovator. Recognized  at ULC's 2013 Forum in Chicago, HCLS was honored in the award's Learning category for HiTech, HCLS' unique STEM education initiative for teens. HCLS' Choose Civility initiative received Honorable Mention in the Civic and Community Engagement category.
HiTech delivers science, technology, engineering and math (STEM) education via project-based classes that include computer programming, nanotechnology, music/video, e-books, game apps, 3D animation, cybersecurity, and robotics.
In announcing the 2013 Top Innovators, ULC President and CEO Susan Benton said, "On behalf of the ULC community throughout North America, I congratulate Howard County Library System for being selected as a 2013 Top Innovator. HCLS staff are commended for setting the pace for growth, change and innovation in the field."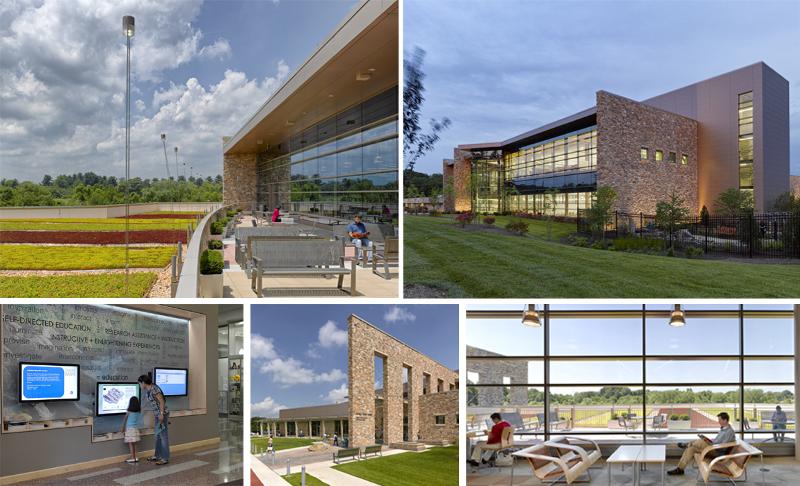 Grimm + Parker Architects Win Wintergreen Award for HCLS Charles E. Miller Branch & Historical Center
Kudos to Grimm + Parker Architects, the architects of HCLS' Charles E. Miller Branch & Historical Center, for receiving the 2012 Wintergreen Award for Community Impact, sponsored by the U.S. Green Building Council, Maryland Chapter.
The new Miller Branch was a collaborative visioning effort between the Grimm + Parker team, Howard County Library System, and the Howard County Historical Society. The two-story building, which opened in December 2011, offers an inviting and state of the art educational center for the community. The high performance building is equipped with innovative, sustainability features while providing a friendly, inviting and comfortable place for staff and visitors. The building was designed to achieve LEED Silver certification from the United States Green Building Council (USGBC) and in 2012 received Gold certification with 42 points.
HCLS Charles E. Miller Branch & Historical Center Awarded LEED Gold Certification
HCLS' Charles E. Miller Branch & Historical Center was awarded LEED® Gold as established by the U.S. Green Building Council (USGBC) and verified by the Green Building Certification Institute (GBCI). LEED is the nation's preeminent program for the design, construction, and operation of high performance green buildings.
The Miller Branch, designed by Grimm + Parker Architects, achieved LEED Gold certification for energy use, lighting, water, and material use, as well as incorporating a variety of other sustainable strategies. By using less energy and water, the LEED certified Miller Branch saves money for Howard County residents, reduces greenhouse gas emissions, and contributes to a healthier environment for the community. LEED Gold certification was based on a number of green design and construction features that positively impact the project itself and the broader community. These features include:
Water conservation features, energy efficient HVAC and lighting design, recycled and local materials, recycling of materials during construction, healthy indoor air quality, low VOC materials, sustainable site design, outdoor environmental features, and access to public transportation.
The green vegetative roof absorbs rainwater, conserves energy and roofing materials, mitigates the heat island effect, and provides an aesthetically pleasing environment.
A Photo Voltaic array (72 solar panels) on the south facing roof generates up to 16 kilowatts of energy per day.
The "river of lights" in the bulkhead on the first floor comprises LED lights, which burn fewer watts than a typical 200 watt light in the average home.
Each 4 ft. section of lights above the book stacks on the second floor uses two 32-watt lamps. An entire light fixture (top and bottom) uses fewer watts than four 75-watt bulbs in a typical residential living room.

Howard County Library System Awarded $100K STEM Grant to Launch HiTech
One of only 12 successful applicants, HCLS competed with 100 other educational institutions from 32 states. The competition was announced in answer to President Obama's "Educate to Innovate" campaign, a nationwide effort to bring American students to the forefront in science and math. The grants were awarded by the John D. and Catherine T. MacArthur Foundation, along with the Institute of Museum and Library Services.
Developed by HCLS, the project combines state-of-the-art multimedia tools, software, technical consultants, mentors, and networking—all delivered to teens in an inviting, youth-oriented atmosphere. Opening in the spring of 2012, HiTech will enable creative thinking and engaged self-directed education in the areas of technology, engineering, and math. Teens will work individually and collaboratively on STEM-based projects.
"These children are our future innovators, problem solvers, and leaders," said U.S. Representative John Sarbanes (MD-03). "This grant will provide hands-on learning opportunities that help put young Marylanders on a successful career path and keep our nation competitive." Details.

National Top 10 Ranking For Howard County Library System
In a survey of more than 9,200 public libraries across the country, Howard County Library System ranked in the top ten for borrowing per capita (24.03 items), according to the July/August 2011 issue of American Libraries.
HCLS concluded FY 11 with record-setting statistics. In addition to seven million items borrowed, customers of all ages visited the Library's six branches 2.9 million times, reflecting a 7.1 percent increase over the previous year. Attendance at HCLS classes and events rose 19.3 percent, reaching nearly a quarter of a million participants. Research assistance totaled 1.6 million, for a 15 percent increase over the previous year.