Presented by the Josephine B. Scheffenacker Education Trust
Also sponsored by Friends of Howard County Library, Frank and Yolanda Bruno Fund, Columbia-Patuxent Rotary Club, Howard County Public School System, and M&T Bank.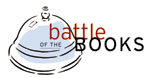 Congratulations to all the teams who participated in the 2015 Battle of the Books.
See pictures on HCLS' Flickr page.
Coaches wishing to find out their team's score may email: bobscore@hclibrary.org. Expect a reply within two business days.
One of the most exciting components of A+ Partners in Education, Battle of the Books gets fifth grade students excited about reading. A lively academic competition, Battle of the Books improves reading comprehension, builds vocabulary, and teaches teamwork and good sportsmanship.  The 2015 competition runs concurrently at Howard, Mt. Hebron, Oakland Mills, River Hill and Wilde Lake high schools.
Teams of five students and one adult coach each read the same 16 pre-assigned books over four months. Selected by HCLS instructors and HCPSS media specialists, titles include a wide range of reading levels and subjects. Thanks to generous sponsors, all teams receive a set of books. In addition to reading the books, teams choose a team name then dress accordingly.
During the "battle" (a 50-question exam), a moderator asks questions that relate to one of the following: a direct quote from one of the book characters; a statement about something that happens in the book; a passage taken directly from the book; details about an illustration or picture. Winning teams receive prizes.
IMPORTANT DATES
Informational Meeting: October 21, 2014 and October 23, 2014 at 7pm at HCLS Miller Branch (410-313-7750)
Online registration: October 20 – November 3, 2014.
Mandatory coach meetings – December 2, 2014 OR December 4, 2014, 7pm at HCLS Miller Branch (410-313-7750) where each team will receive their set of books.
Mandatory logistics meetings – March 17, 19, OR March 26, 7pm at HCLS Miller Branch (410-313-7750).
Last Day to Change Team Info & Permission Forms Due: February 6, 2015 (the forms are posted below).
Battle of the Book Contest: Friday, April 10, 7pm at locations to be announced.
Each coach and student member of the team must fill out the appropriate two-sided form posted below to participate in Battle of the Books. Click on each link below to download each version of the form. They must be returned by February 6, 2015.
IMPORTANT INFORMATION
2015 book list:
Online version
Printable copy

Frequently Asked Questions
If you still have questions, email
Battle of the Books
.
A+ Partners in Education is licensed by Howard County Library System (MD) under a Creative Commons Attribution-NonCommercial-ShareAlike 3.0 Unported License.
Please let us know when you launch your A+ initiative so we may link to your web site