Charles E. Miller Branch & Historical Center
Howard County Library System's (HCLS) newest and largest branch, the state-of-the-art Charles E. Miller Branch & Historical Center opened December 17, 2011.
A 21st Century facility for a 21st Century public education, the new Miller Branch matches the quality of the curriculum HCLS delivers through its three pillars: Self-Directed Education, Research Assistance & Instruction, and Instructive & Enlightening Experiences.
The branch features a collection of a quarter million items, 100 web accessible computers equipped with word processing software, and nine study rooms. Classroom space includes a 3,000 sq. ft. meeting room that can be partitioned, an 800 sq. ft. children's classroom, and a 700 sq. ft. Tech Lab. The Terrace Overlook allows customers to read and work outdoors while enjoying the green vegetative roof and views beyond.
The new Miller Branch elevates Howard County and Maryland history education, bringing our heritage to life in unprecedented ways. The Historical Center vision includes a strengthened partnership between HCLS and the Howard County Historical Society, as well as other organizations, to leverage funding and expertise for enhanced research opportunities, classes, seminars, and events.
Also located at this branch, the innovative Enchanted Garden focuses on health, nutrition, and environmental education. This outdoor teaching garden is intended to "grow healthy habits" through wondrous experiences including wildlife statues, water features, and themed plant beds such as the Peter Rabbit patch, providing children and their families with the opportunity to learn about garden cultivation and nutrition. Additionally, the Miller Branch hosts the Howard County Farmers' Market on Wednesday afternoons, May through November. The new Miller Branch recorded 849,368 visits in FY 2013.
Designated LEED Gold by the United States Green Building Council, the energy efficient new Miller Branch includes 72 solar panels, an abundance of controlled natural daylight, approximately 9,000 sq. ft. of vegetative roof, and many other sustainable, energy efficient features. A user friendly, interactive energy "dashboard" located in the branch's lobby illustrates many of these sustainable features and also gives real-time data which tracks the building's actual energy usage. This dashboard is also viewable by clicking on the following link: buildingdashboard.com/clients/charlesemiller.
Building tours of the new Miller Branch, which highlight many of the building's sustainable features, are available by appointment through the branch.
DIRECTIONS
For driving directions, click on the map at right.
Take the Howard Transit Yellow Route to the Miller Branch. For more information on routes and schedules, call 1-800-270-9553 or visit www.howardtransit.com.
Branch Manager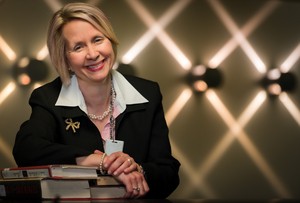 Susan Stonesifer
Branch Location
9421 Frederick Rd
Ellicott City, MD 21042
(410) 313-1950
Branch Hours
Mon. – Thurs.
10 am – 9 pm
Fri. – Sat.
10 am – 6 pm
Sun.
1 pm – 5 pm
* Open Sundays year round.